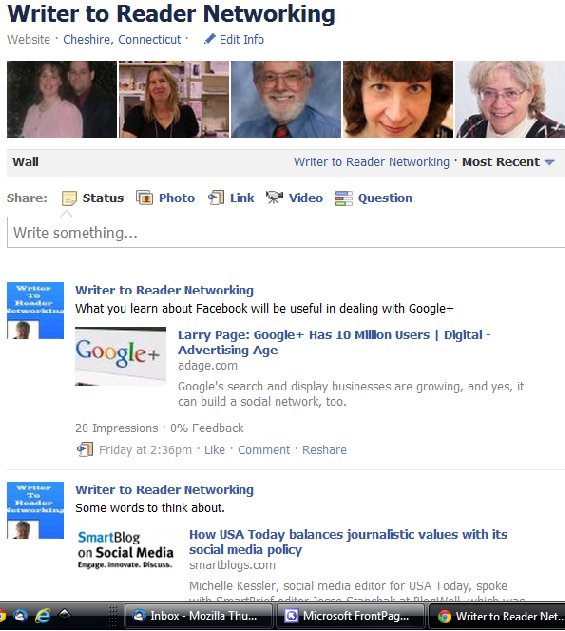 At the June CAPA meetings for both Southwest and Central CAPA, a program was discussed to help writers market their books to the more than 600 million members of Facebook. This is an overview that will be gone into in detail during the September Avon meeting. However, for those who wish not to wait but to avail themselves of this free opportunity to market to millions, here is how you go about it.
First, the reason to learn this technique is simple. You can meet your reading public without leaving your home. You can build the kind of platform that all publishers and agents want to see. And, furthermore, you will become a lot more understanding of the how and why of technology without the fear of embarrassment or confusion. Plus, the course is free.
Build a web page
Put the web page on a Facebook Fan Page.

Attract people to your Fan Page.

Collect the names and email addresses of your fans so that you can send out messages telling them where you will be speaking or autographing your book. (This would be great to have in place before the Big E.)

Learn all the marketing steps that work to build interest in your book.

Stay up to date on all the changes that are happening in the online marketing world with weekly newsletters.

Network with other writers or marketers every day and learn tips to make you better at getting the word out.

Learn how to take your currant blog and make every post appear on Facebook without you having to do anything.

Learn graphics that will help not only online but in publicity material you prepare as handouts for events.
Enjoy the fact that itís free

This is a course that Peggy Gaffney took this spring as part of a group that was organized to create this whole program. The two people who started it, Jo Barnes, from England and Jared Elvidge, from Utah live thousands of miles apart and yet, because of the internet, work together as a team with the rest of our initial crew that came from Connecticut, California, Australia, Indonesia, Fiji Islands, Canada, and many more locations around the globe. The idea was to create a program that would help people from all walks of life learn to use Facebook as a marketing tool. Jo is a marketing whiz who loves problem solving and has more energy than is possible for the mother of a young girl. Jared is a technology expert who, though he is loosing sleep with a new baby in the house, will happily answer anyoneís question. He never makes you feel dumb. They run the online school and I handle the author questions on the Writer to Reader Networking Fan Page.

So, how do you go about being part of this? The first thing to do is if you are not on Facebook, sign up for a personal account. All of your friends as well as family will chat with you there.

Next, at the top of your new page you will see a white box in the blue Facebook banner that is for searching. Type in Writer to Reader Networking. It will take you right to the page where Jo Barnes will tell you step-by-step exactly what to do.

Once youíve done the steps, there will be a series of lessons sent to you where you can play them on your computer and do the steps at your own speed. If you miss something, you can play it again. If there is something you donít understand, you can ask a question. Itís just like going to school except you can do it in your pajamas wearing your bunny slippers.

After a few weeks, you will have a web page up on Facebook and will be making new friends and fans for your books.