Art of Editing in Writing Workshop Series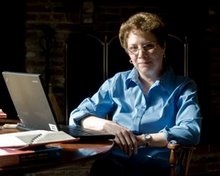 West Hartford — April 13
The latest Art of Editing in Writing workshop for fiction and nonfiction writers with writer and editor Adele Annesi occurs at 6:00 p.m., Tues., April 13, at the Jewish Book Festival in West Hartford.
The festival, with acclaimed novelist Chris Bohjalian, takes place at the Mandell Jewish Community Center Zach's Campus, 335 Bloomfield Avenue. Mr. Bohjalian's talk begins at 7:30 p.m.
The workshop, sponsored by the Connecticut Authors and Publishers Association, helps writers hone their work for today's competitive market.
For more information, visit The Jewish Book Festival, or contact Elana MacGilpin.
Adele Annesi
Adele Annesi is an award-winning editor and writer. She worked for Scholastic Publishing as a development editor and news writer, and is a book editor, specializing in business, religion and memoir.
As a freelance correspondent, Adele covers the arts, entertainment, people and the home. She does in-depth pieces on authors, business, culture and travel, as well as blogs and monthly columns on writing and editing.
Adele's creative writing appears on Red Room and in various literary magazines, including 34th Parallel, Connecticut Muse, The Fairfield Review, Hotmetalpress, Miranda Literary Magazine, TheNovelette.com, The Pittsburgh Quarterly, Tertulia Magazine and Trillium. She has contributed stories to The Circle and the Italian-American journal Pyramid, and her short fiction appeared in an anthology for Fairfield University.
Adele presents pieces for Barnes and Noble and the Ridgefield Writers Guild, and as part of the Ridgefield Writes 300th Anniversary Program. She received the editor's choice award from Poetic Voices in America, and teaches the innovative Art of Editing in Writing Workshops for libraries and other venues. Her workshop of the month appears on the Online Workshop page of this site.
A nominated member of Who's Who in the World, Who's Who in America and Who's Who of American Women, Adele is also a member of American Christian Fiction Writers, the Connecticut Authors and Publishers Association, Freelance Writing Organization International, the Housatonic Valley Cultural Alliance, the Ridgefield Writers Guild and Wellspring Writer's Workshop.